News
New updates now available
Posted at: Wednesday, March 22, 2023
---
Good news! Behind the scenes we have been busy optimizing the
Reservation Overview
and the
Reservation page
within the LeisureKing environment. Both have become more compact and functional. Log in and experience the ease of use for yourself. Below is an overview of the changes we have made.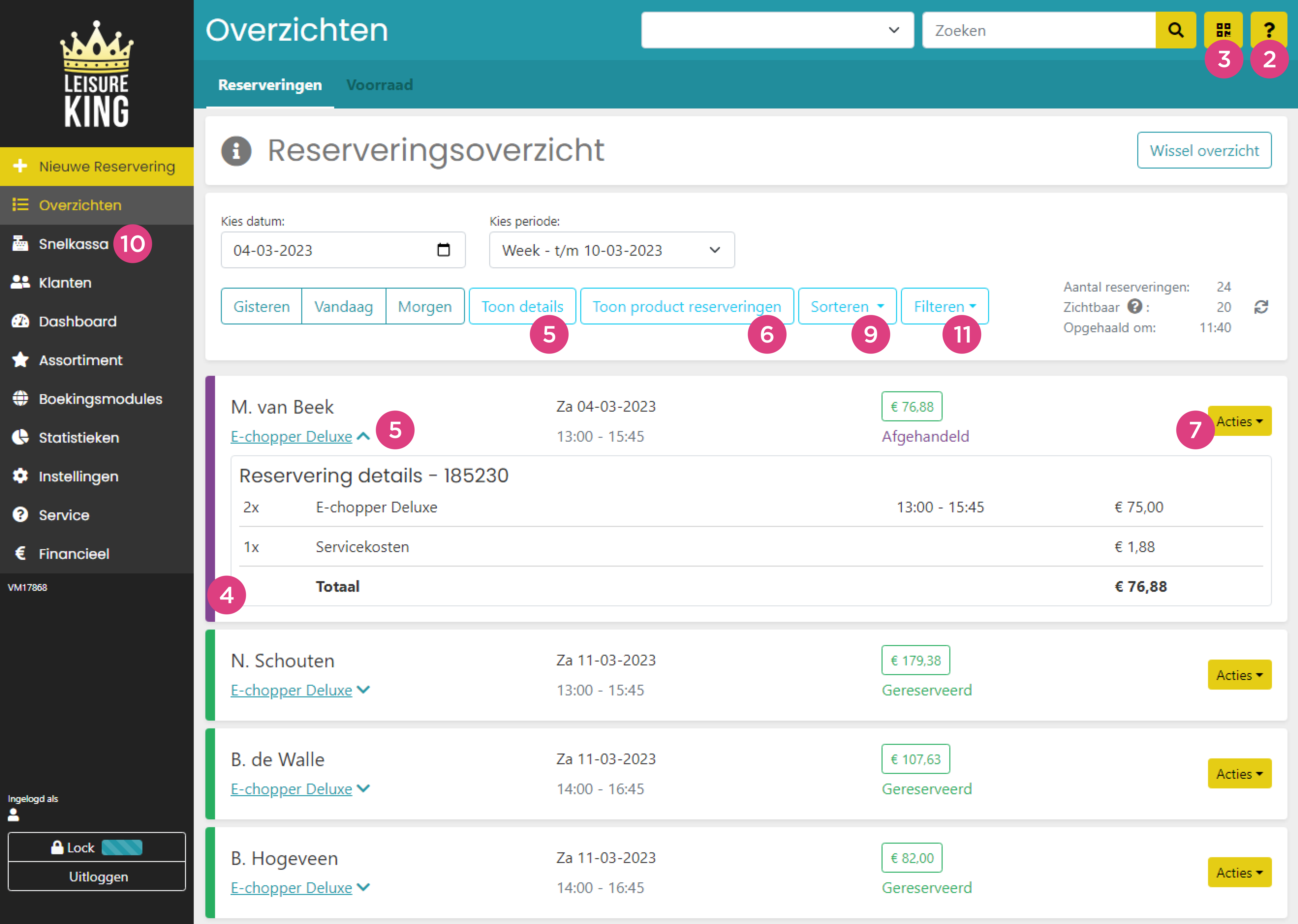 ---
Updates Reservation Overview
1. Responsive design
The new LeisureKing environment is fully responsive and can now be used optimally on your mobile.


2. New user manual
The User Guide can be opened on any page in the OMS and takes you directly to the section on the page you are on. This way you can always find answers to a specific question.


3. QR code scanning
Did your customer receive a QR code in the mail? Then simply scan it with the camera of your smartphone or a computer scanner. Your reservation will be opened in no time or your ticket will be scanned immediately.


4. Completed reservations
A completed reservation is now recognizable by the new purple color.


5. More compact overview
To keep the overview compact, only the basic details of the reservation are visible. Want to know exactly which items belong to a reservation? Use the arrow to unfold the reservation. Instantly see all details of all reservations? Select in the filter bar: Show Details.


Product reservations 6.
Reservations to which only a product has been added are not shown initially. So a reservation in which you only sold a bottle of soda and handled it directly is not listed among the reservations with activities. Want to see them anyway? In the filter bar, select: Show product reservations.


7. Quick Actions
From now on, you no longer have to go all the way into a reservation to add a deposit to the booking, initiate an open payment or set the reservation to Active or Completed. This can now be done simply from the reservation overview.


8. Back to overview
When you return to the overview from an opened reservation you no longer automatically end up at the top of the overview. You will now be positioned where you left off.


Choice in sorting reservations 9.
The display options of the reservation overview have been expanded. For example, you can now sort by customer name and show reservations by day, week or month.


10. Quick checkout positioning
The quick checkout is now a regular part of the menu.


11. Choose your own branches
It is now possible to show reservations from different branches in one overview. To do this, select in the filter bar: Filter. And add the desired branches.


---
Updates Reservation Page
12. Appearance
Sleeker, clearer and faster. That's the new reservation page in a nutshell.


13. Multiple reservation lines on the same date
Does the reservation already have a reservation line on a certain date? Then this date will be copied to any new reservation line you add.


14. Quick calculation of reservation value and payments
On the reservation page, you can now see at a glance how much the customer still has to pay. Also, the difference between the amount paid and the amount from the reservation lines is immediately visible.


15. Scanning material into your OMS
With the Scan&Go feature, you can make each rental item unique with a QR code. You then easily link the rental item to a reservation by scanning the QR code.


---
Do you have questions about the updates? If so, please contact us.
Changes to the OMS as of March 8
Posted at: Wednesday, Feb. 23, 2022
---
If you log into LeisureKing starting March 8, the software will look different than what you're used to. Below we tell you more about the major changes and what this means for you.
---
Lockscreen
The first time you log in you will see a notification about your new unlock code. You need the unlock code to unlock LeisureKing after a short period of inactivity. This makes your account more secure. Because if you accidentally leave your account unattended, the system will automatically lock.

By default, your unlock code is the first 4 letters of your username (case sensitive). But you can also change the code to a 4-digit code. You can change this via Settings > Users.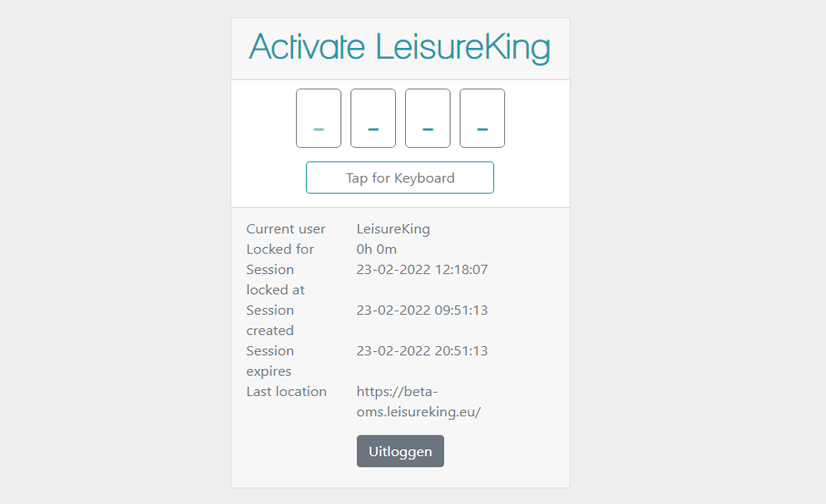 ---
User rights
Your employees are all different. Through the new rights structure, a user account can be specified based on more than 25 different user rights. User rights can be found at Settings > Users.

Note! All of your current users will have "read only" permissions by default. Be sure to reset all user permissions immediately when you log in on March 8, 2022.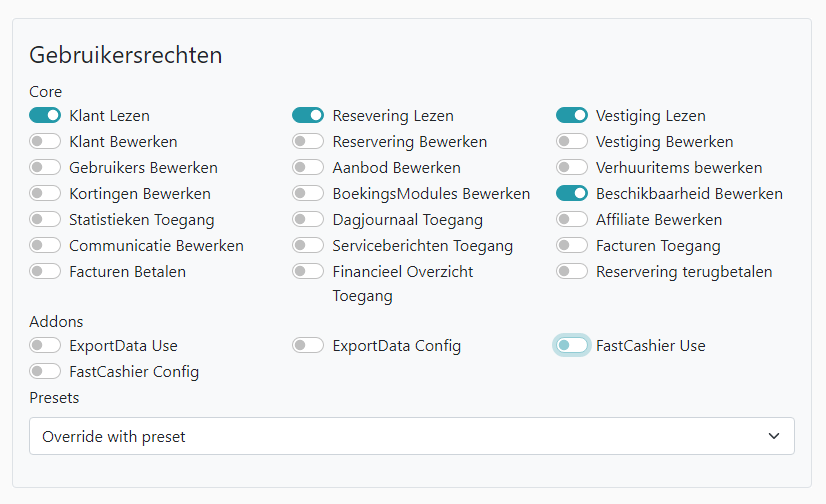 ---
Assortment
Assortment is the new name for Tools. Here you will find all the information related to your activities. Also the Availability can be found here. Under Assortment > Offerings > Activities you will now find a Shopping Cart and Pencil icon. Click on the shopping cart to manage photos and online texts. The pencil icon allows you to change your rates and time slots.


---
Customers
The menu will take you to your Customers' data. Within the Customer Overview you can now easily search for all visitors who have visited your company. Also convenient, you can add a new customer with the click of a button.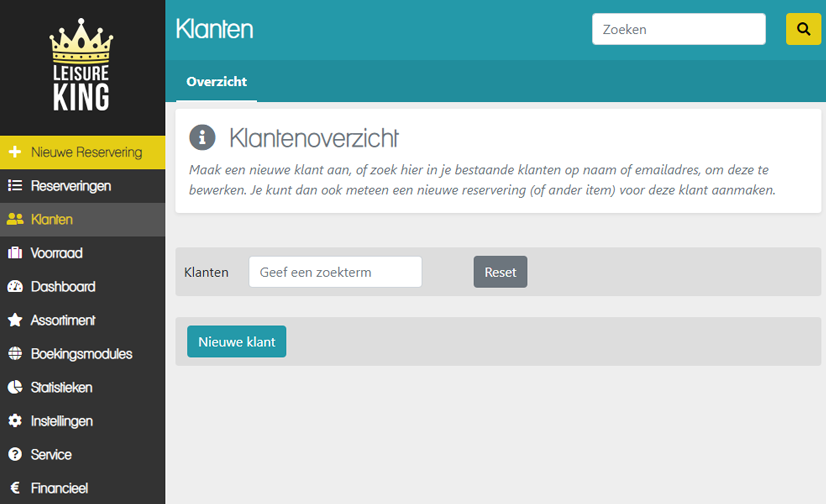 ---
Service
The Service page helps you with all your questions regarding LeisureKing. Here you can view the online user manual and quickly get in touch with a support person via Support request. Is there a LeisureKing Add-on you would like to use? You can request that too here.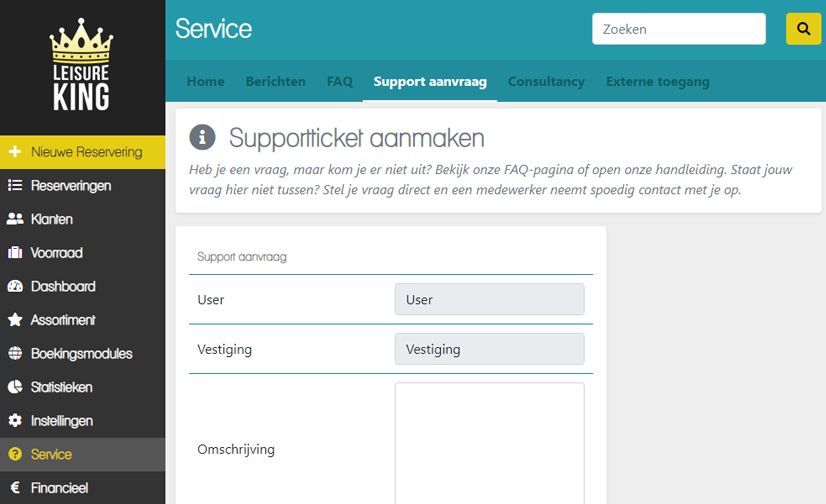 ---
So, as you can read, there are going to be a lot of changes in OMS. We hope you are as excited about it as we are! Can't wait to use the new features? Then get in touch with us.
LeisureKing's new booking module
Posted at: Wednesday, Feb. 23, 2022
---
Customer experience, that word was central during the development of LeisureKing's new booking module. Although your activities are easily bookable through your website, we go the extra mile! Even faster, clearer, more efficient.... Below we tell you more about the advantages and how you can use the new booking module.
In the menu you will now find
Booking modules
. Here you will find all your current online windows. But you can also get started directly to create the new booking module. You can then send the embed code to your website administrator so that the booking window will be visible on your website.
---
New booking module
The new booking module has many nice changes from the old one. For example, the module is equipped with a shopping cart, so your customer can easily fill his day with different activities. Furthermore, the availability is shown faster and more clearly and we have worked hard on a beautiful and modern look. Upsell items are easier to book, desired name and address details can be set up and analytical data can be easily captured.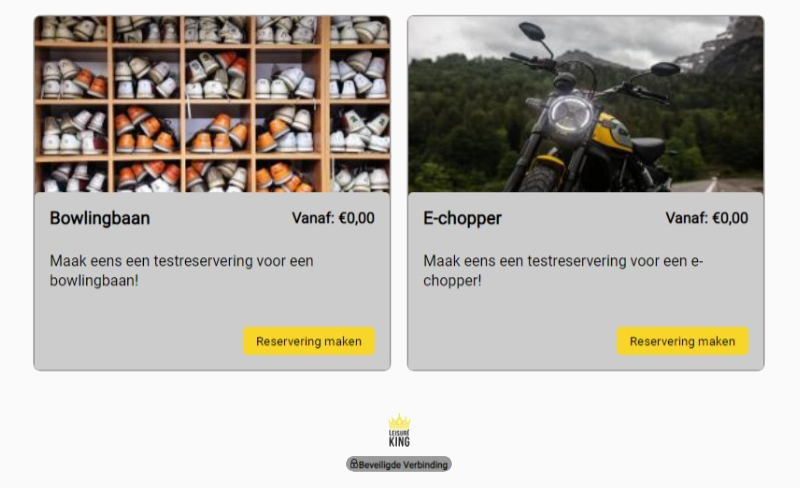 ---
Create new booking module
When creating a new booking module, you can configure a lot yourself. For example, you choose the type of module, indicate whether your customer can enter a discount code, how payment should be made, which name and address information you need and which activities should be shown in your new booking module.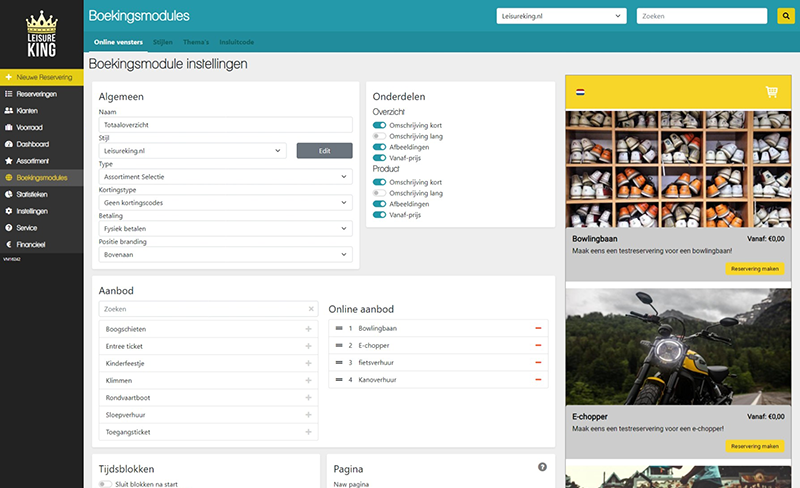 ---
Styles and themes
The booking modules are fully customizable. From now on, you can easily enter your own website color code when creating a new house style. But that's not all, because any font you can find on Google Fonts can also be used in the new booking module. Thus, the booking module becomes even more part of your website.

Oh, and do you know or are you a CSS Developer? Then create your own theme.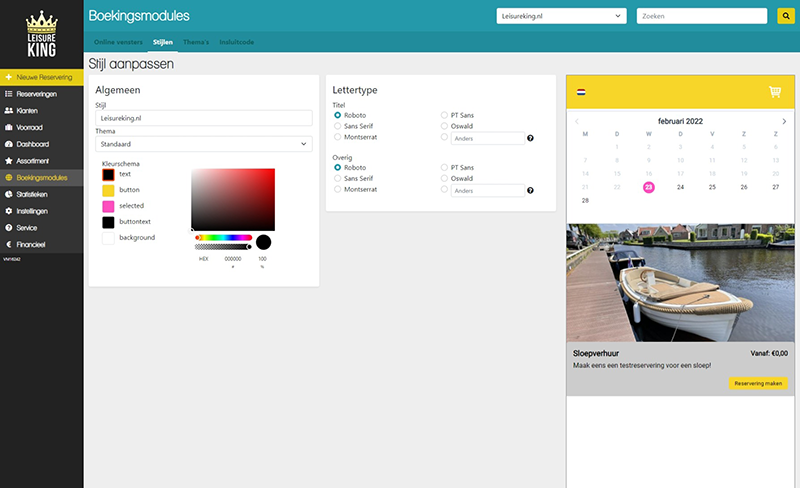 ---
Containment codes
To replace your current online window for the new booking module, you can easily retrieve your new embed code in each module. You can find it at the bottom of the booking module settings. You can also use the embed code to place a shopping cart on your website. In addition, we have already prepared a script for you with which you can easily capture Google Analytics.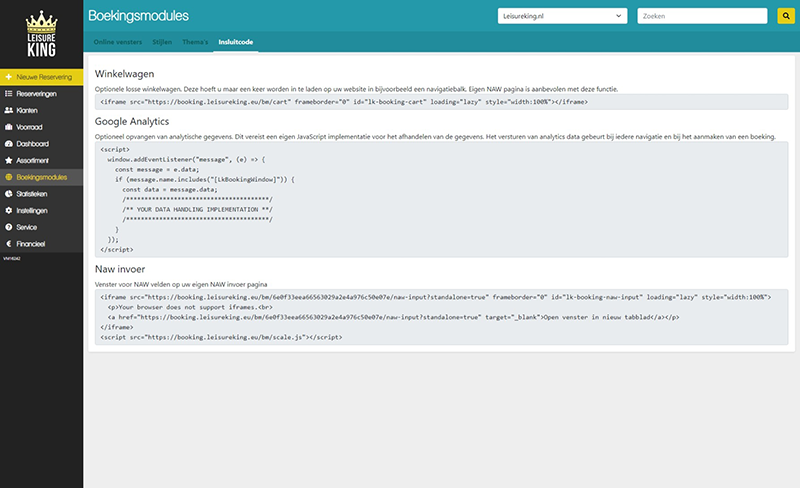 ---
Recreation Trade Fair November 16, 17 and 18, 2021
Posted at: Monday, November 1, 2021
---
Unfortunately, we had to skip it in 2020, but this year we will be back twice over! What can you expect from us at the Recreation Trade Fair booth 259 in hall 2?
LeisureKing is the reservation system for the leisure industry. We are constantly improving and developing ourselves. Therefore, we would like to introduce you to the newest features of the past year, but we also like to give you the chance to be the first to see our very latest functionality. For example, we are working on new online window structures and more and more parties are joining us to work together. So your services will soon be even better to sell.
At the recreation trade show, some of our partners are also present with a booth such as:
MplusKASSA
- So how do you combine your hospitality location with online reservations of your day recreation? Very simple: by letting LeisureKing talk to MplusKASSA, for example. That way, you work within one system for your reservations and hospitality on a daily basis. Would you like to link a LeisureKing reservation to a restaurant table? We'd be happy to show you how! We will be at the fair with a POS system, and on November 16 and 17 we welcome our partners from LEZA (the company behind MplusKASSA) to our booth to tell you more about it!
Booking Experts
- The reservation system for two recreation worlds. Where you know LeisureKing as the reservation system for day recreation, Booking Experts likes to be that for vacation parks and hotels. In August, our link with Booking Experts went live, and now vacation park guests can effortlessly enrich their vacation with fun day activities (via the My Environment). You'll find Booking Experts' booth at number 223.
PAY
- PAY has been involved with LeisureKing from day 1. Pay.nl is our payment provider and as partners we continue to work continuously to make the systems work together even better. We are also happy to demonstrate this to you on the exhibition floor.
Dagjeweg.nl
- Offer your outings through dagjeweg.nl? This is possible with the link that DagjeWeg has with LeisureKing. Because of our total integration, bookings that are made and paid through DagjeWeg come directly into your LeisureKing environment. You can find DagjeWeg at booth 248. We would love to show you how this link works, but also the links with other booking platforms like Booking.com, GetYourGuide and TUI.
Stop by for coffee in the morning, lunch at noon or drinks at the end of the day! Get your tickets for free via our
fair page
And then we'll see you there!
Are you already selling gift cards or vouchers?
Posted at: Wednesday, September 22, 2021
---
Do you offer
gift certificates
to? Or have you ever thought of
vouchers
to sell? That's where LeisureKing can help you!
How nice is it to receive a birthday gift that can be used for an active afternoon? Fantastic of course, you know that better than anyone! With LeisureKing you now have the opportunity to sell your own gift cards and vouchers. Of course in a nice digital 'gift box'.
in your own style
.
So how exactly does it work? Quite simply, actually! On your website, people can buy the gift card. Just in an online window of LeisureKing as you already know it. Once paid, a discount code is created within LeisureKing. We put this discount code on the gift card, which your customer then receives as a PDF file in the mail within a few minutes. So no extra work for you, because
this is all automatic
.
The lucky recipient of the gift certificate can then use the discount code to book an outing through your website. Discount codes issued with gift certificates can only be used once. Pretty convenient ;).
By selling gift cards, you can
in winter also get sales
. And you can stimulate this with a nice winter promotion, for example, where your customers can buy gift certificates with a 10% discount. For a gift voucher worth 50 euros they only have to pay 45 euros. This way you still have turnover in the winter, and your customer can book a nice trip during the season.
Do you want this too?
Please contact us
, then we will be happy to infomercial you about the possibilities!